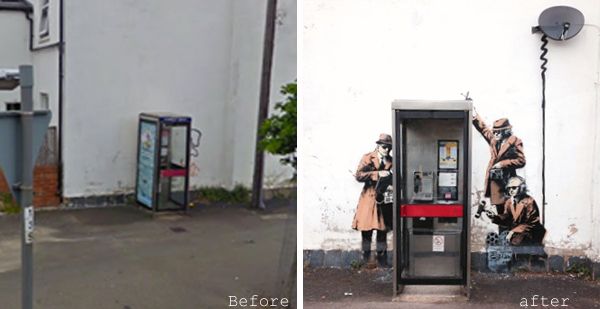 I've lived in Cheltenham for while now and nothing usually ever happens here apart from a horse race or two, but now something really exciting has come to the 'Nham (as us locals affectionately call it).
If you've not already heard, the mysterious street artist Banksy has landed one of his new works in, yes, you've got it - only bloody Cheltenham!
Nobody really knows what
Banksy
looks like though, which I think is part of the appeal, part of the mystery and PR genius.
Do I wish I had the guts to draw or paint something on the side of a building? Heck yes. But I'd be so nervous that someone would see me, all the lines would be wobbly! But now that 'public' art has been accepted in Cheltenham, it does inspire me a wee bit.
I really love the individual thinking behind Bansky's work. He's always pushing boundaries, throwing out the rule book and doing what nobody would ever expect. I like the little dabble with humour and the expressions on his character's faces which are the hallmarks of his work. Banksy just goes and does what he wants and I absolutely love that - he doesn't look for approval. Which, in some ways is what other iconic artists did,
Andy Warho
l famously said...
'Don't think about making art, just get it done. Let everyone else decide if it's good or bad, whether they love it or hate it. While they are deciding, make even more art.'
And I believe this is how Banksy works.
Just looking at the crowds of smiling, happy, excited faces looking at this new piece of work on the side of a random house in Cheltenham shows how art can capture the imagination like nothing else, and really does make you that little bit happier.
It also brings together community - the kind people who want to save and preserve the artwork
, and also the uplift in sales and footfall to the surrounding shops in the area has been great news for traders too.
So it got me thinking about telephone boxes; those once loved little cubbies that we made late night phone calls to our boyfriends in so our parent's couldn't hear, to the derelict buildings gathering dust that they've become as mobile phones take over.
Here are some other telephone box themed artworks, PR stunts and links that are equally as cool:
1 //
Fun Booth
2 //
Brits not ready to say goodbye to much loved telephone box
3 //
The rebirth of public payphones?
4 //
Follow Banksy on Instagram here to see all his new works.
Who knows where the next Banksy will pop up - and that's exactly part of the appeal!