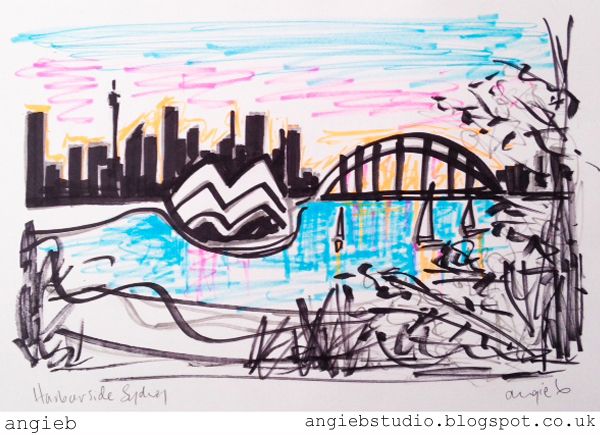 Seeing Prince William and Catherine on their Australian Tour
gave me a twang of home sickness recently. I'm so glad they got to visit so many places and have their little family with them. They're so cute.
I'm a bit gutted that they didn't visit Western Australia and Perth though - because if you think Sydney is beautiful then you'd really utterly fall bananas in love with Perth.
But seeing Sydney bought back so many memories. I was right back there watching the sun set over Sydney harbour bridge, watching fruit bats fly overhead.
Fruit bats?! Yep, Australia is THAT awesome that they have fruit bats flying around the botanical gardens near the Sydney Opera House at night. A-flipping-mazing.
So this memory came out of nowhere and I could almost smell Sydney and Perth and Australia again. A rush of memories coming out of nowhere and suddenly I had a burst of inspiration to sketch these images in my mind and get them on paper.
And I then thought how especially poignant this was on today,
Anzac Day 2014
where we remember all those who served and died in all wars. These people fought so we could be free today, without their selflessness, we may not have the joys we take for granted this very moment. Lest we forget.