It's that time of the week again that I have a lovely guest over for a coffee chat about their creative business - and I grill them with a Q&A and then treat them to a digestive biscuit.
Today's coffee guest is none other than Cheltenham's very own reigning queen of craft, Bex Smith! <-- Owner of '
By The Yard
', Cheltenham's independent makers' emporium, and creative knitter, knotter, stringer and threader at
Ampersand Commodities
creative jewellery brand.
Phew! This is one busy lady - >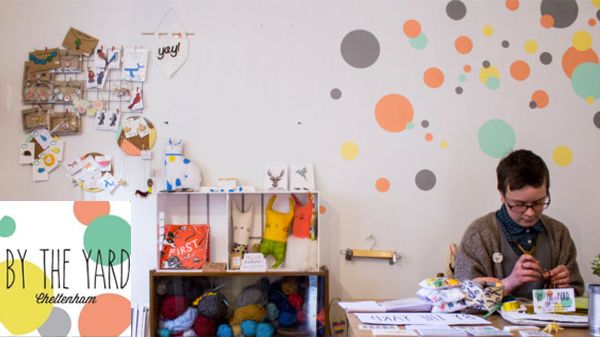 1. When was the Ampersand Commodities brand born?
Ampersand Commodities
was born about 2 months ago now. Me and my best pal used to run a partnership called StuffedNonsense but we decided to disband it after we both got other more important commitments. I opened
By The Yard
and El (my business partner) had a baby. I knew that I still wanted to continue making things and decided now was the perfect opportunity to bring
Ampersand Commodities
to life. Now, two months down the line I sell four current jewelry ranges from my
etsy shop
(and other stockists around the UK, including my own bircks and mortar shop By The Yard): Knitted&Knotted, Warp&Weft, Stitched&Strung and Found&Wound.
2. What made you take the leap from 9 to 5 to self employment?
It really was a now or never moment really. I was offered the great opportunity to open up a bricks and mortar shop (my ultimate ambition!) and I could only do that by taking the full time plunge. The good thing about running
By The Yard
is that I can work on
Ampersand Commodities
during shop hours! At the end of the day: there's no point having dreams unless you're going to try and achieve them.
3. What one piece of advice would you give anyone who's sitting at their office job feeling like a drone who wants to make a go of working for themselves?
DO IT! You don't have to jump all the way in a become full time self employed. With websites like Etsy, not on the high street etc etc its now easier than ever to do stuff on the side of the 9-5. If you don't try it you'll never know if it would have worked. Have confidence in yourself and take the plunge. Be prepared to learn quickly. I've been in the handmade scene for almost 8 years now and every day is a learning curve. Develop a tough skin, not everyone will appreciate or understand what you're trying to do. Don't waste time getting upset about.
4. What has been your favourite project that you've worked on with By the Yard or Ampersand Commodities so far?
I'm currently helping to organize (and host!) this years
etsy party for the Gloucestershire area
, I'm really enjoying it! Its lead me to discover lots and lots of local talent. I was also lucky enough to get accepted to sell at last years Renegade London with Ampersand Commodities. It was the biggest craft fair I've ever done AND it was with my own work (as opposed to StuffedNonsense partnership).
5. How old were you when you first started making stuff and what was the first thing you made?
Oh my days...I think I came out making things! When I was little I would always be making something. I can remember getting rewards for good school reports in the form of crafty bits (paints etc etc) I can remember being taught how to use a sewing machine sat on my Nan's knee whilst making a bridesmaid dress for me for my aunties wedding. In one shape or another I've always been making things...whether it was growing veg with my Gramps or drawing pictures at the dinning table.
6. Who is your inspiration (who do you think is totally cool)?
I'm a prolific people watcher so i'm always inspired by people i see out and about. I'm really inspired by people that make things with their own hands! So running By The Yard is a daily dose of inspiration for me. I love the work of Karen Barbe her needlework is just dreamy and i'm also partial to an odd instagram stalk of people like Little Green Shed, Davina Drummond and Ariel Alasko....and a load more!
7. Do you have any favourite blogs or websites you regularly read?
I do love a good browse of
Print and Pattern
, the
Design Files
and
Decor8
.
.....
Thank you Bex for giving us an insight into your creative process - ! Now you can have your biscuit.
I sure do love Bex's colourful knits and stitches, don't you?! Her shop is amazing too, have you been? If you're in the area you must seek her out at
By The Yard Cheltenham
! Or if you fancy some crafty action yourself don't forget to pop along to the
ETSY Craft Party on 6th June
--->>
buy your tickets here
!!
Follow her on Twitter
//
Shop at her ETSY store
AB
x