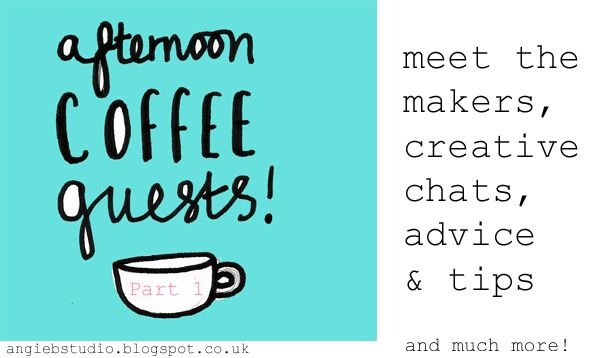 I've got this new little segment I've started for the blog called 'afternoon coffee guests' - where I'll be having a guest over to introduce to you all, answer some questions and to have a bit of coffee and fun while we're at it!
Sound good, doesn't it! Well, check this out, this afternoon's coffee guest is a really rather stylish cross-stitcher Genevieve from the awesome makery of
Floss & Mischief
.
Come and join us for some creative chatter, tips and advice!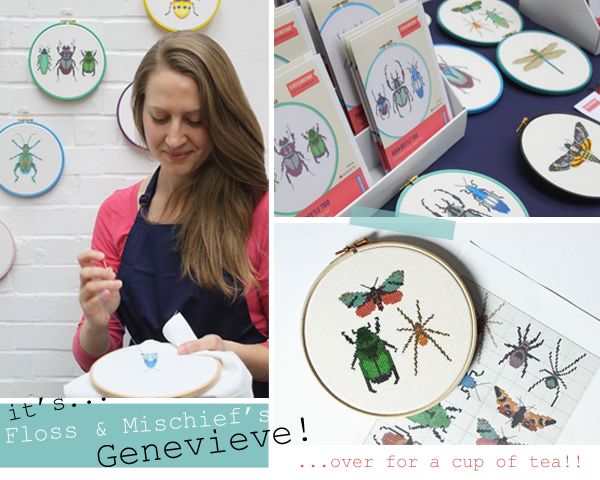 Genevieve Brading (owner, maker and chief stitcher at
Floss & Mischief
) has made needlework trendy again with her modern designs, colours and unique style.
1. How old were you when you first started cross-stitching and what was the first thing you made?
I'm guessing I was about 6 years old. I was always dabbling with crafts growing-up and was given a cross-stitch kit for kids. It was of a big ladybird and used massive plastic canvas and chunky wool. Maybe my love of cross-stitch critters started way before 2011, because I stitched it all diligently.
2. When was the Floss and Mischief brand born?
It was late 2011 and I'd been arguing with my boyfriend about taxidermy – he wanted to fill the house with very on-trend stuffed and mounted insects, but I put my foot down as it's just too creepy. As a peace offering I designed and stitched some cross-stitch beetles for him. Today, my needlework business still rocks the taxidermy trend, and we've also got exciting new stitching products in the pipeline. In case you're wondering, I still argue with my boyfriend about taxidermy.
3. What made you take the leap from 9 to 5 to self employment?
It felt like the right time to do it. I was designing my own patterns, I wanted to be my own boss, we were house-hunting in the countryside and I knew I'd have to quit my London job when we relocated. It was the kick up the backside I needed to try (scary) self-employment. I've never looked back.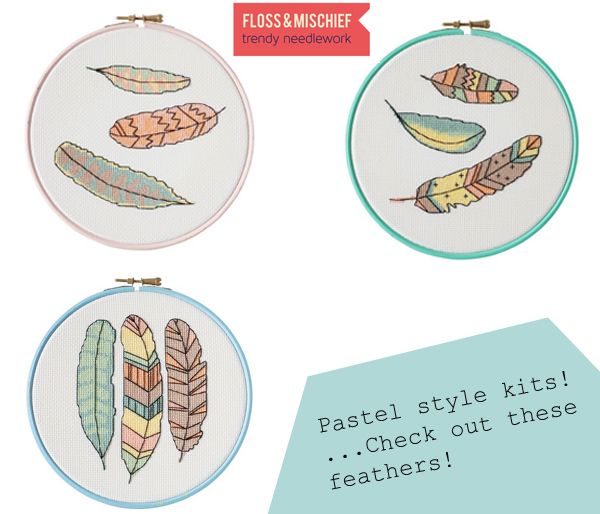 4. What one piece of advice would you give anyone who's sitting at their office job feeling like a drone who wants to make a go of working for themselves?
Stop thinking about it and just start doing it, if only on the side. You don't need all the answers (no-one has them all); learn as you go. But the sooner you get going, the sooner you'll grow your own venture and escape the office job. I wish I'd done it sooner.
5. What has been your favourite project that you've worked on with Floss and Mischief so far?
Flip, I've worked on some amazing projects and couldn't narrow it down. If anything, I'm most excited about what's to come! I'm bursting with ideas and new products to try, which make me want to do a happy dance. I'm especially pleased with my new
Thread Art collection
, as I've always been fascinated by old black and white photos and finally found an excuse to use them in my work. It's a joy to combine two things you love, like old photos and embroidery, and to call it work.
6. Who's your inspiration (who do you think is totally cool)?
I think Tina Roth Eisenberg, aka
swissmiss
, is dynamite. I love her attitude, her energy, how she sees a gap and does something about it: like inspiring you over breakfast (CreativeMornings), helping you to prioritise workloads (TeuxDeux app), providing co-working space (Studiomates) and raising the bar for temporary tattoos (Tattly). Have a gander at her talk on "taking your personal projects seriously" at
http://www.swiss-miss.com/about/hi-i-am-tina
(second video on the page)
7. Do you have any favourite blogs or websites you regularly read?
In terms of stitching blogs, I like how
&Stitches
make embroidery accessible and
Mr X Stitch
for showcasing stitchers who push the boundaries. I find it really useful to read about people and businesses from other industries though; I often end up being inspired and learning new stuff. For example, I'm totally in awe of
Pinch of Yum
and how they talk so candidly about their blog income. Are you that brave?
.....
Woohoo! Thank you Genevieve for being on the creative hot seat this week - how groovy was that insight into the world of
Floss & Mischief
?! Check out the coolest cross stitching kits by clicking these here links //
Shop
//
http://www.flossandmischief.com/
//
Follow on Twitter
//
They'll be more creative afternoon coffee guests next week (and if you want to join me for some creative afternoon coffee chats,
send me an email
and we'll see about having you over - but only if you bring the coffee;)
AB
x