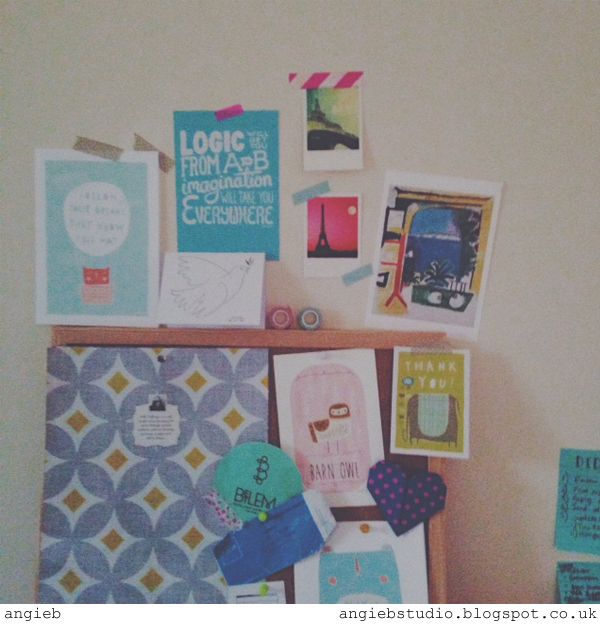 When you're a freelancer, self-employed or own your own business, you often forget about Bank Holidays and stuff. Mainly because you no longer have set working hours, or days, everything gets fuzzed together, work and life; your work becomes your life in many ways.
And the main reason why Bank Holidays are weird when you're a freelancer is that you don't get paid any different if you do any work on it. We don't give ourselves a day off or get double-pay for example.
Sometimes I can be working late into the evening - at the moment it's quite nice to be working at my desk at dusk as the sun sets later in the evening. This was my desk last night - a glimpse of the wall in my studio where I stick up things I like and find from other artists and illustrators, and little mementos from my travels (including the odd post it note to remind me to hoover!)
This week has flown by, but I've enjoyed listening to lots of new songs to keep me company while sketching away at my desk; The new
Coldplay
Album,
Ghost Stories
of course, but also this song from a great up and coming band,
El Born
with a track called Kangaroo (video and song below.)
(Animated by Indie Venture "Right Side Up" Story by Ian Keteku http://sombrethoughts.com/)
One half of the
El Born
duo is Si Connelly, a fellow Cheltenham'er who just so happens to be the most talented singer/songwriter to come out of this little town (like me, he survived this town!).
In my early twenties I met Si gigging at a local acoustic night where I had taken my acoustic guitar to sing a few songs (when I was in my early twenties I did think I could be a rockstar... like I think everybody gets in their early twenties! Thankfully I realised rockstardom was not meant to be ;)
So anyway, my terrible singing aside, I met Si and was instantly captivated by his songwriting skills, passion for music, and incredible voice - he just had that 'something' - a bit of musical magic perhaps - and above all he was a really nice, down to earth and humble guy who helped me to set up my mic and guitar for my 'set'.
I'm proud to see that, 14 years later (thankfully I stopped singing) but Si kept on, and he's now producing the most amazing tracks with another incredibly talented musician
Hils Granger,
and together they make up the band
El Born
. They've even had a hat dip from
Coldplay
themselves.
El Born are coming to Cheltenham on 30th May
playing at Subtone - and you must come!!!! For more info
click here for ticket information
.
And buy the song here
before it hits the big-time!
AB
x