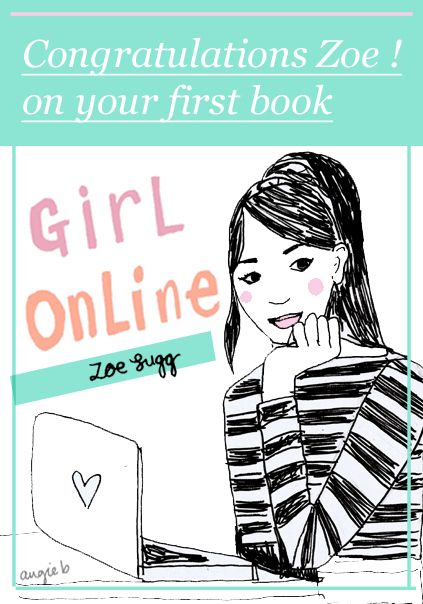 As a blogger, I really champion other bloggers and vloggers and people who are putting great things out there on the internet. And Zoe Sugg is no exception, really doing such amazing things in the internet landscape, I'm so thrilled that she's got
her first book deal
. Especially as she has announced her main character will have issues with anxiety and panic attacks, something I can empathise with on a very personal level...
I've always been an avid 'internetter', from the early days back in 1997 I was one of the first kids in my class to go 'online' and use email. I would email this other boy in my class who was a bit of a geek too.
I remember the days of ICQ, MSN messenger, when Google first popped up in stead of Yahoo and Alta Vista, I even had a website, a fan page dedicated to the TV show Friends. Yes I was a geek - but I was a geek and I found comfort in computers because I used to suffer from Panic Attacks and Anxiety would always hold me back from hanging out with friends.
Now that I'm over 30 I look back on those days and really try not to remember the bad times. My school days were not a perky time. Anxiety or Panic Attacks weren't really talked about a lot in those days either, we didn't have the internet (only a few of us geeks!) we couldn't google symptoms and doctors didn't really understand it either.
So because I kept getting panic attacks in Lectures at University, I dropped out.
I've never really talked about this before, but I feel like if it had been talked about more when I was a teenager, I probably would have sought help or advice in a much better way. Instead I hid myself away.
So now I'm a 30 year old woman and, for those who know me would probably think that I would be the last person on earth to have gone through this because I'm always so chipper and chirpy and talk to anyone and stand up in front of crowds of people and chatter away. But I want to talk about it because it's important - it's important for the next generation that we are open and honest and share our experiences good and bad.
I'm proud that despite everything I made it here today, I own my own successful business and I've got the most amazing friends, offline and online. I got through it so, so can you :)
But sure I still get anxious, worry and have the odd attack of panic where I want to run out of a room or just hide myself away but i'm totally ok with that because that's me and that's who I am, and as you get older you really care less what people think.
I'm especially grateful and proud of Zoe Sugg (
AKA Zoella
) because she too suffers anxiety attacks which have in the past held her back, she has such a strong following of young teenage fans and is able to send such a positive message to them through her videos. I think this is awesome and I cannot thank her enough - I wish I had a '
Zoella
' figure to look up to when I was younger and going through what I did.
Her new book, Girl Online, will cover all these topics and she has hinted that her heroine will have these feelings too.
Well done and congratulations on your first book deal - I've done a little sketch up of your new book especially for the occasion in true Angie B style (i.e everyone in my drawings wears the Coco Chanel Le Breton coveted stripe! hehe) :)