Woooosh! Gosh, where the heck did June go? I'm sure it was May a moment ago.
So, things have been busy, and my blogging dedication has slipped. I'm ticking so many things off on my to-do list and sketching so fast my pencil could almost be a light sabre. There's even a cold cup of tea in my kitchen I made an hour ago that haven't had a chance to drink yet! Don't worry though, it's all been great, I've had a really productive month - there are exciting things happening at Angie B Studio!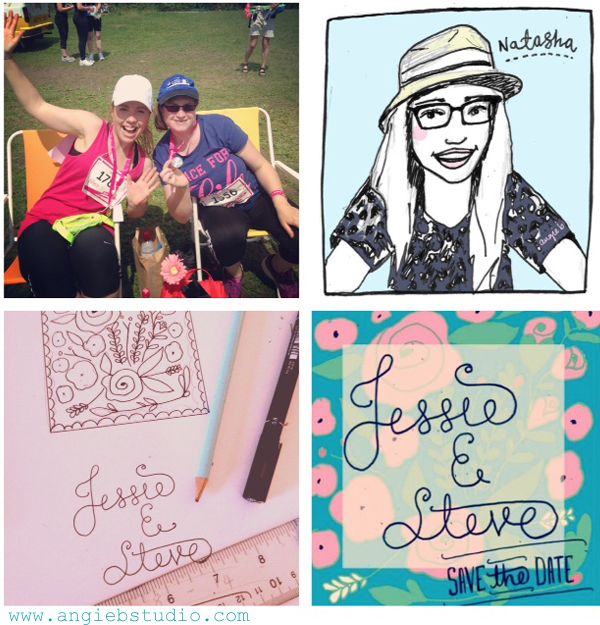 Pic 1 //
June was taken up with last minute training for the
Race for Life
with my best chum, Sarah. We first ran the Race for Life together in 2009, and this year we were both able to take part again (in between 2009 and now a lot has happened; Sarah has had Twins and I've moved to Australia and come back again, bust my kneecap, then my foot and my achilles tendon went twice!) But it just goes to show that you can get 'fit again' all it takes is a little dedication. Sarah and I went out for a run twice a week and slowly but surely we got faster and ran further - it's amazing seeing and feeling yourself improve. After all my feet injuries (I now have chronic nerve damage in my foot) I never thought I'd run again.
We both ran the race in our best time yet, I was so proud of her, and I was so grateful and thankful that I could run again. Even when it was hurting and I was tired (which it was!) I kept going because to be able to run is such an amazing gift that anyone who's ever had an illness or injury and not been able to do stuff like walk, run, or jump, really makes you appreciate it a whole lot more.
I also think about both my Nan's when I run the Race for Life, both passed away with cancer when I was young, and both were taken away far too soon. I sometimes wonder what they'd say about things or what life lessons they'd have for me, now I'm an adult. I'm sure that they'd both tell me to go after my dreams, and to never gift up. People close to us may be gone, but they are never forgotten. (
My sponsorship page is still active until the end of June so you can still donate to
my Race for Life page
.)
Pic 2 //
The second picture is a portrait sketch of a Blogger and
Vlogger
I met on Twitter,
Natasha
, who has a blog called
The Milk Stand
where she shares her life and activities with her gorgeous little son Max (as well as beauty and lifestyle tips too). She also makes videos about their days, and is a real joy to watch - I'm sure that other Mums with little ones would really enjoy
her video diaries
- she's just one of those really ace people you can watch!
Pic 3 and 4 //
A little wedding invitation set I've illustrated and designed for a really lovely couple, Jessie and Steve, they recently saw some of my illustrations and I was delighted to work with them on this lovely (literally!) project. I wish I was going to the wedding, it sounds like it's going to be such an amazing day!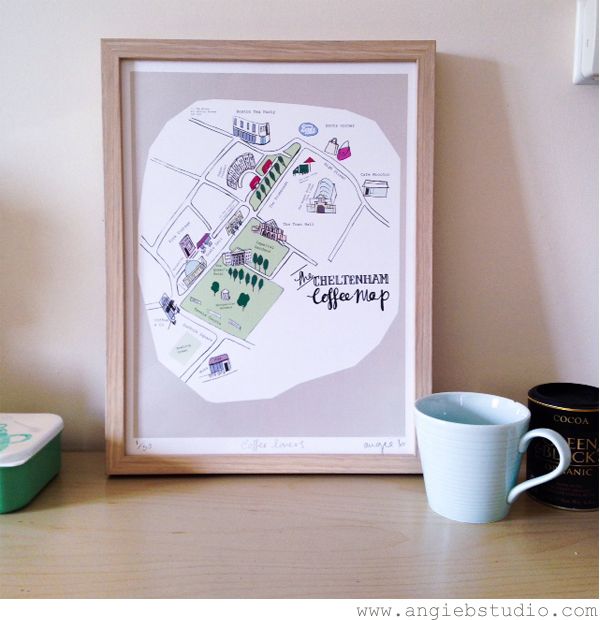 Above ::
I've also been finishing off a project for the Cheltenham Coffee Map!
As you know, I have became quite a 'coffee' guru in Cheltenham (people know I love my coffee and only the best will do!) So I always get asked 'where's a good place for coffee near...' etc, so I sketched this coffee map (so people never get lost when in need of caffine) for fun and then people loved it so much I've now produced it as a limited edition print. I can't wait to send it to coffee lovers in Cheltenham and beyond!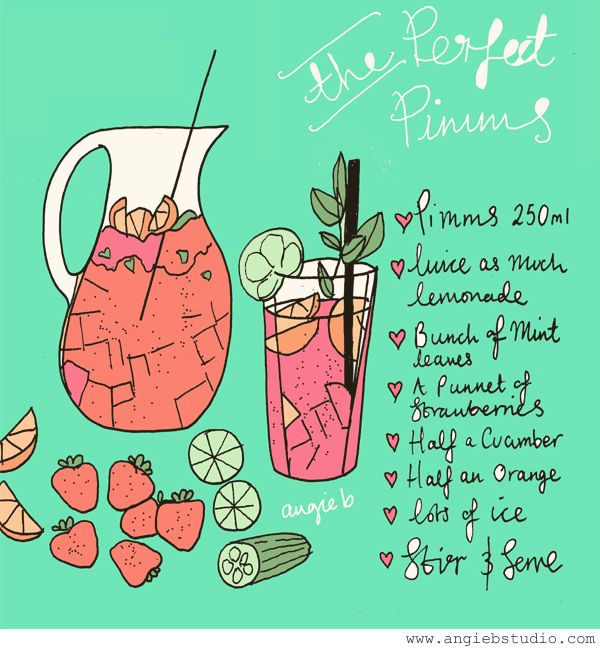 And last but not least, a little Pimms illustration I recently did for a food magazine.
And, Pimms because it's Wimbledon; Pimms, because it's Summer; Pimms, because it's a nice thirst quenching treat after you've run a race! ..and Pimms, because it's such a pretty drink, that is so easy to make and everybody loves it because it's so British!
And on that note, I'm off to pour myself a glass - Clink Clink!!
Cheers!
AB
x