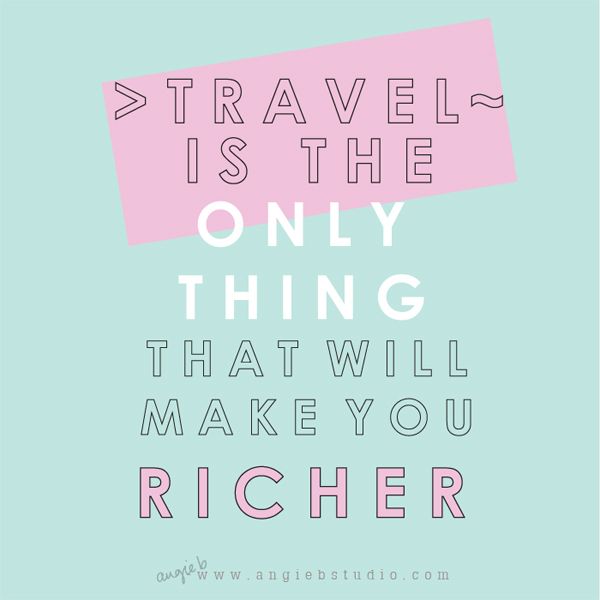 In 2008 I bought a ticket on a bit of a whim, not really knowing where I was going or where my adventures would take me. I simply held a piece of paper in my hand and waved it at the flight attendent at Heathrow a few months later, and crossed my fingers.
It was the most expensive thing I had ever bought. But boy, was it going to be worth it.
I didn't know what to expect from my travelling experience - maybe a nice tan and a few visits to the beach - but I absolutely wouldn't have expected, in my wildest dreams, the incredible experiences that lay ahead of me.
If you're young and don't have any ties, I would absolutely tell you with no uncertainty that you must travel. Stop buying shoes and handbags, save some money, and buy the most amazing memories you'll ever own.
There are a number of reasons why (and I will document them in this blog over the coming months), but here's one to go on with;
I'll forever be grateful for the photograph below. It as taken by my friend Neil in the Blue Mountains in NSW Australia. We'd rented a car and decided to drive south on a road trip and it is still one of the best trips I've ever taken.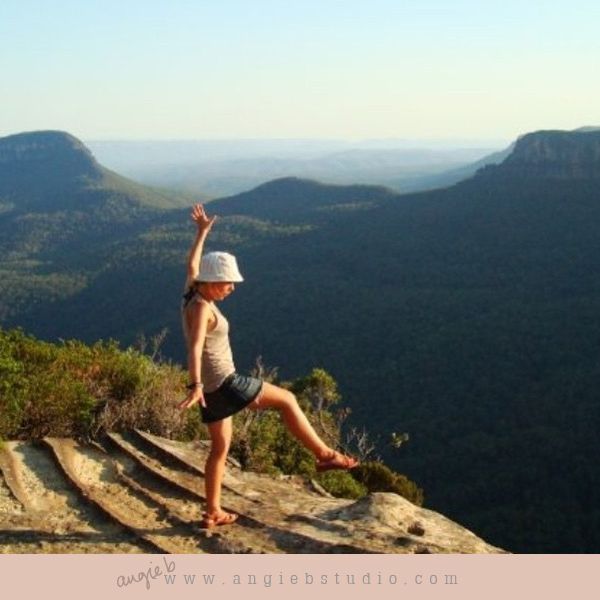 Arriving in the Blue Mountains late in the day, we'd driven a long way in over 40 degree heat to get there - and the mercury had even hit 43 degrees at one point (Phoofh, that's hot). We had the air conditioning full blast in the car, but even that was warmish. We rolled down the window and stuck our arms outside to see what it felt like - 43 degree heat air - and it was literally like sticking out hands in a tumble dryer.
So we arrived at the Blue Mountains late in the day and the sun was beginning to set. We stopped at a viewpoint and walked quickly down the track. It was still hot, but starting to cool off a bit by now. When we got there, I still can't believe what I saw - the vastness of the Blue Mountains is breathtaking, your mind struggles to comprehend the vastness of the beauty, the space and silence in front of you - it's an incredible feeling and what I can only describe as freedom. I felt truly free and carefree - like my true self. I was me, free of any stress, worries, pressures and noise.
Turning to walk back up the path towards the car, I saw small dancing dots in the air in front of me in the light of the sunset - what were these? I asked myself and turned to Neil, 'What are they?' I asked, wondering if they were indeed tiny little alien spaceships.
'They're fireflies.' He said, matter of fact.
I'll never forget that day, and I do visit often in my mind, of course. When I need some inner peace and calm, I go and visit, I breath in the air and I imagine looking out again, touching the warm air and watching the fireflies dance in the twilight.
* * *
Of course, as well having these as amazing experiences, travelling also taught me how to pack well for a flight - a really valuable lesson! I've become quite an efficient flyer and packer - skills they certainly don't teach you in college. So below are some of my flight essentials...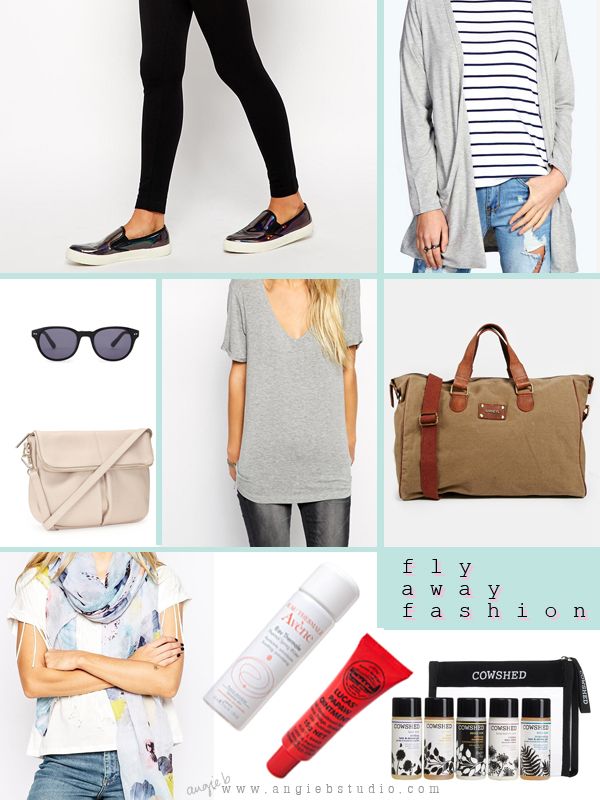 Fly away fashion...
L - R (top to bottom)
1 -
Leggings
-
by ASOS
- comfy and warm. Jeans dig in too much after 11 hours.
2 -
Comfy shoes
-
by ASOS
- comfy but cool, flat, and easy to run in - if you miss your departure gate! There's lots of walking and running to be had in airports.
3 -
Wrap around cardigan and layers
-
by Boohoo
- Planes are cold, so you'll need layers and cardigans to layer on when they bump up the air con, but take off when you land.
4 -
Sunglasses
-
by Whistles
- doubles as a hairband
5 -
A comfy cross your shoulder bag
-
by Whistles
- safety first when travelling, across your body with zips is much safer.
6 -
A comfy essential tee
(or 3!) -
by ASOS
- I wear one and pack on in my hand luggage to change into when I land because 11 hours in the same t-shirt is a sweaty situation!
7 -
A well sized hold-all or backpack
-
by ASOS
- a one sized wonder.
8 -
An oversized scarf
-
by ASOS
- doubles as a sarong, towel etc. for when you need to pack light.
9 -
Avene water spray
- - Great for dehydrated skin in cabin air con. To take make up off. To cool off. To clean things with. you name it, a water spray is awesome for it.
10 -
Lucas Pawpaw
- Hydrates lips and skin in an instant, no thanks to cabin air con.
11 -
Bath and shower minis
-
by Cowshed
- travel sized as you won't get through security without your bottles in a size under 100ml. Think petite!
Also worth mentioning:
Socks; Wet Wipes; Hand Gel; Headphones; Tissues; Second pair of leggings; toothbrush and toothpaste (mini); ear plugs.
See you soon for Part 2.
AB
x