How November crept up on us I don't know. It's really like this year is speeding to the finish line more than ever.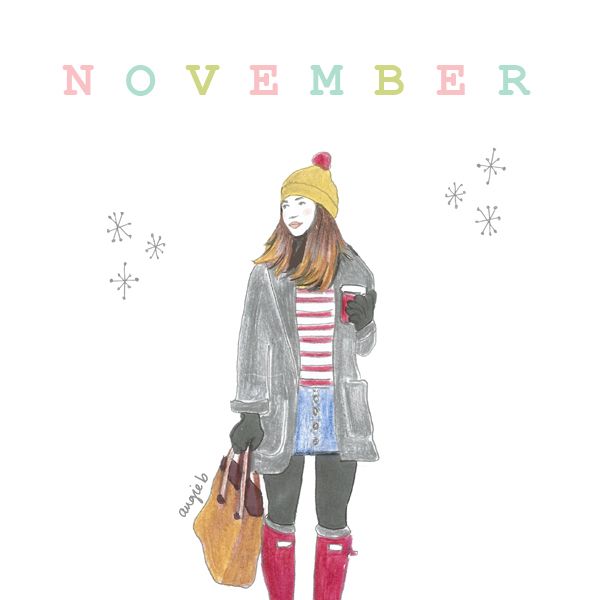 The month of November is always a busy time of the year for us all, it's the pre-race to Christmas, after all! So to continue on my from my previous blog post on helping you to get organised, here's another!
There's another free desk planner printable and matching desktop wallpaper to keep you inspired all month long.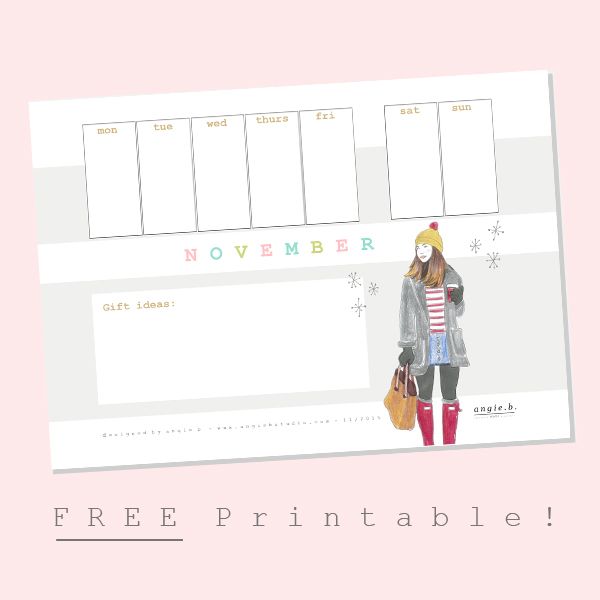 November's girl is wearing a dashing pair of Hunter wellington boots, and looking very cute in her mustard bobble hat! Now, if only I could replicate this look - how cute is that skirt?!...er, hold on, I can! Yep, I have the full look below on my
Wantfeed
!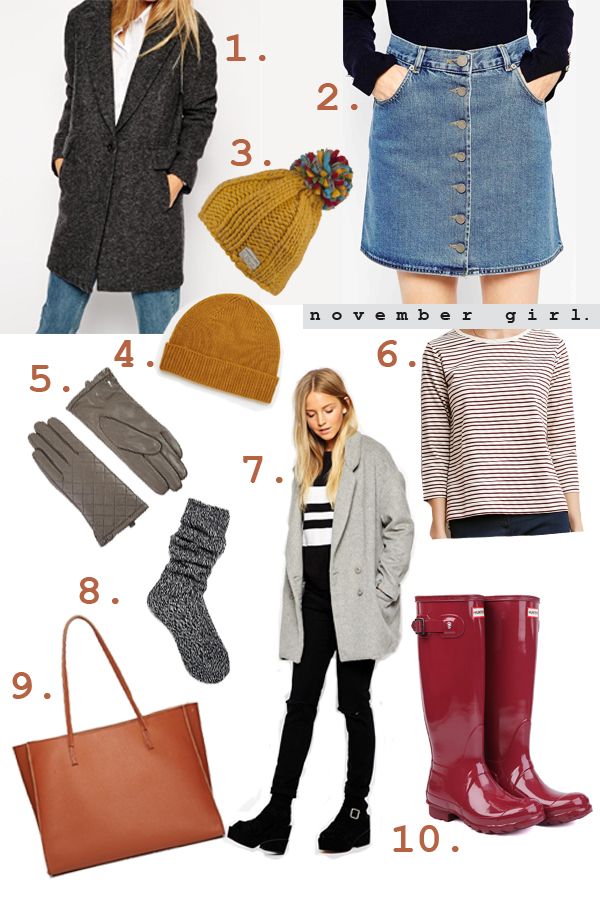 Wantfeed
is a very cool addictive website, very cool for this time of year when you're trying to collect all the things you want from from Father Christmas (que hints to your boyfriend ) ..or, just for payday to treat yourself when you can afford it... ! It's a bit like Pinterest, but a far more fashion and gift focussed and easier to curate your own 'giftlists' and groups of products you like. Whereas Pinterest is getting a bit wodded down with 'How to make $million dollars blogging' pictures and links and photos of humungus kitchens, and things you'd never make in a million years with dishsoap,
Wantfeed
is kind of like shopping with your best girlfriend. It's cute, cosy and stylish.
Find them all on my WANTFEED here >>> 1. Dark grey coat 2. Denim Button up skirt 3. Mustard Bobble Hat 4. Mustard Beanie 5. Leather Gloves 6. Burgancy Stripe Top 7. Light Grey Marl Coat 8. Wellie Socks 9. Tan Tote/Shopper 10. Rouge Hunter Wellington Boots...
Personally, the wellies are a tad on the expensive side, but everything else is super dooper affordable, because I'm a budget babe after all. I'm still searching for a budget pair of those wellies... but maybe if you love them, Santa can sort you out ;)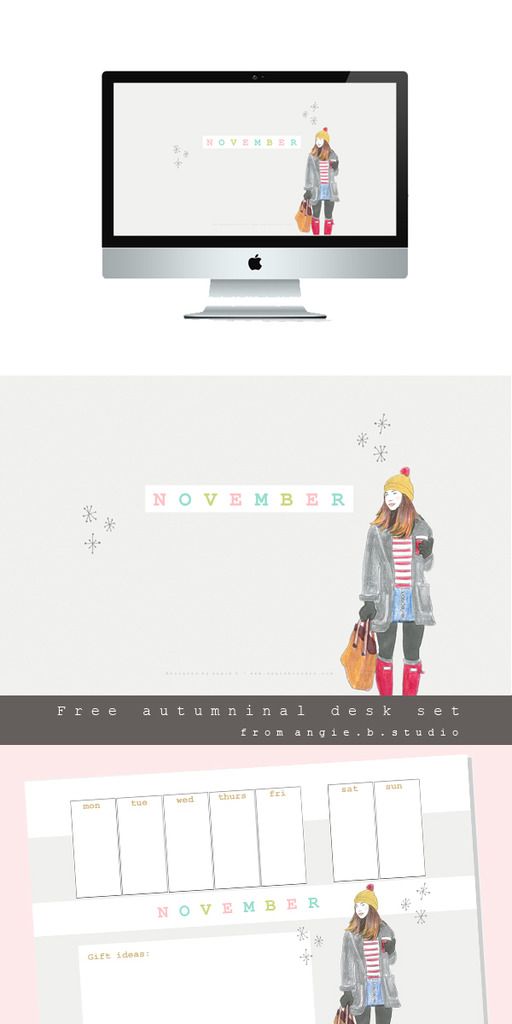 So now we've sorted out your November wardrobe, here's your free desk planner download and matching desktop background wallpaper. Choose which ever one your fancy and get super organised this week!
Download the Planner and Wallpapers below!
(Terms of use :: As always with my freebie printables, they are for personal use only - they aren't to be resold, copied, or distributed as your own, or used commercially in any way, (that's not cool friend :) Credit is always very gratefully received if you are sharing them (I welcome sharing!) tag me @angiebstudio on Twitter or @angiebee on Instagram - or Contact me if you're unsure about any of these terms on mail@angiebstudio.com. Thanks for your support!)
And as always, below are my 3 top tips to keep you productive this month:
1) 10 minute check, morning and night.
In the morning:
Before I start the day at
Angie B Studio
, I sit at my desk with my bowl of banana porridge, and review my list from the day before, then start a new list, writing out each point again and new points as they come up. Doing this ritual jogs my memory and makes me re-analyse each point. If there's an item that I still haven't completed, I ask myself why; - Am I waiting for a response from someone? Am I putting it off? Does something else need to happen before I can do it? Things like that. A 10 minute analysis seriously makes my productivity sky rocket.
At night:
Before I turn off the computer in my office and go and relax for the evening, I re-read my to-do list. I start to make a few notes for the next day but nothing concrete (I do that in the morning when my mind is much clearer) I tick off what I've completed and have an overview of the day's progress. Sometimes you'll be surprised by what you've achieved by doing this, and you must celebrate every small achievement! By making a small 10 minute window (with a cup of tea as a reward) at the end of the day is so worth it.
2) Your top 3 priorities:
Sure, that 'To-Do' list looks pretty Loooooong, right? Where do you start? Urgh, you want to go back to bed already you've got so much to do! Help! Relax. Nobody can do it all. The best way to achieve it is to get started, and to get started just focus on your top 3 things. Do these first.
I always find that if I knuckle down in the morning and tackle my 'must do' things first, I actually get them done, then after lunch I can tackle the smaller, ad hoc tasks and anything that crops up last minute.
3. Take your breaks
Breaks can be the most productive thing you'll do each day. It's a time to reflect and to re-asses, adjust our sails if we've hit some storms, and plan a route of action. I always take a good hour for lunch and a good hour in the afternoon around 3pm (when nobody is productive).... But I always put that hour back into the day later on when I find I get a 'second-wind' at about 6pm. I use that hour when I can be productive. And between the hours of 2.30 and 3.30 I am pretty useless, so I don't try to be! (learn when your own natural productivity levels peak and fall) During these times I take my mind off and do something else - Whether it's reading, creating something for personal enjoyment, listening to some music or doing some yoga - it's scientifically proven that mind-breaks are essential to avoid burn out. So don't feel guilty, just do it, your productivity levels will thank you :)
Now go and make November awesome by achieving all those things you've wanted to do all year long!
You CAN do it!
AB x